Feature Tour

Only essential support team features. Track your customer's requests from contact forms, emails, orders, etc.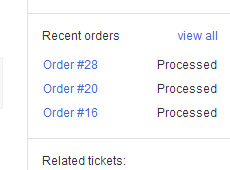 Ecommerce Ready
Integration add-ons through the Re:Desk API for some major ecommerce engines will be provided for free along with all our premium Re:Desk plans. The integration feature will include: availability to log in to the Re:Desk with the same login access as your customers have in your online store, section for displaying the order information per your customers and more. Stay tuned with us.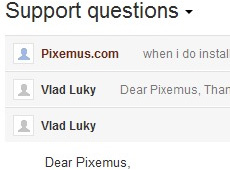 No Overloaded Functionality
User friendly Interface. All the messages with equal subject are stored to one ticket. Re:Desk provides the special interface to view and manage the messages in the most convenient way. All old messages are collapsed and the message header contains a short message information. Any message can be expanded by one click. All necessary ticket information stores on the right column near the ticket messages.
When the staff replies to the customer message, the message is sent to the customer email either, so that the customer can reply to staff messages via email.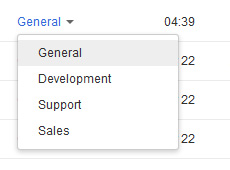 Automatic Assigning to Department
By choosing department (support/billing/sales etc.) customers can directly specify which department receives the ticket with the email message directly. If the question was submitted by customer to a wrong department, support agent can easily assign ticket to a correct department. If customer sends the message via email, ticket is created automatically and assigned to the default department specified via Re:Desk settings.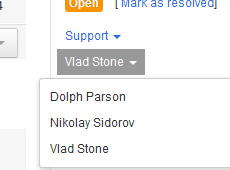 Support Agents/Staff
Any ticket can be assigned to the department. The manager of the department with appropriate permissions view all this tickets and assign them to the staff of his department. The staff of the department has the lowest permissions for viewing and managing tickets.
Staff Roles
Re:Desk allows to set some permissions for the staff/agent. These permissions define staff roles inside department. For instance, a manager of the department can browse and manage all tickets that are assigned to his department, while his staff can see only the tickets which are assigned to them by the manager.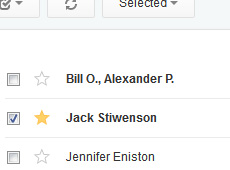 Email, Twitter or FB messages → Ticket
Re:Desk converts your incoming emails, Twitter or Facebook messages (comments and mentions) into tickets. All one-subject messages are stored to one ticket that allows you to track all the clients' messages efficiently and fast in one place.
You can set up the Re:Desk to receive emails to different departments, for example support@yourdomain.com and sales@yourdomain.com and the messages will be automatically delivered to appropriate departments.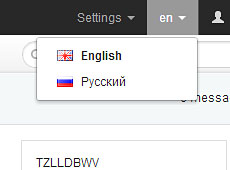 Languages System
It allows to translate the software on any language you need just by translating appropriate phrase variables in the special language files. If want to contribute any additional language to Re:Desk you are always welcome. Just contact us with any questions in case they arise.

If you want to suggest and add any language to our software, please contact us and give as the information and translation files:
Send us language file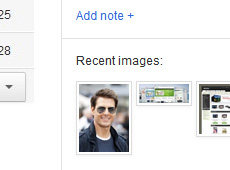 Quick Panel
The panel with a ticket information allows you to view and change any information related to the current ticket quickly. Assign to the department and support agent, "Close" or "Open" ticket status, recent images that were attached during the ticket conversation, related ticket posted by the same author, availability to add note to the ticket - all this makes it easy to view all the necessary information and manage tickets without any mess.
Notes added to the ticket are visible only for support agents.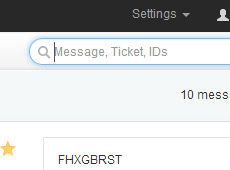 Flexible Search
The Re:Desk interface includes a flexible search for quick finding any information you need. Enter a ticket or message ID, phrase or author name/email and you will be presented with a list of matching tickets.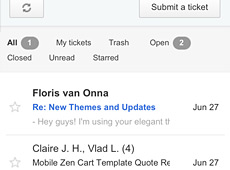 Mobile Adapted
We provide a responsive design feature included to all our Re:Desk versions and plans. The design of the software is developed in a particular way which allows to get it adapted for a wide range of devices, including desktop PC, tablets, iPods and mobile phones. Just test our demo via mobile or tablet device.
General Features List
Support Agents
Unlimited
Custom domain
E-mail channel
Twitter channel (comments and mentions tracking)
Facebook channel (comments and mentions tracking)
Submit a ticket form
Staff roles (permissions)
Departments/Categories
Integration to e-commerce
API for developers

New!

External email accounts

New!

Email templates

New!

Notifications to email address
Spam filters
Multi-lingual

New!

SSL support
Mobile-friendly (responsive design)
Multisite Features

| | |
| --- | --- |
| All general features | |
| Support system for several sites (stores) | |
| External e-mail accounts in help desk | |
| Separate e-mail templates for each e-mail account | |
| Departments as sites (stores) names | |
| Automatic ticket assigning to appropriate site (store) inside help desk | |
Ecommerce Features

| | |
| --- | --- |
| All general features | |
| All multisite features | |
| The same login access to helpdesk as your customers have in store account | |
| Contact through order page for customers | |
| Order details section with customer recent orders on ticket page | |
| Automatic ticket assigning if customer contacted through order page | |
| Automatic ticket assigning to appropriate department | |
| See ready-made addons for shopping cart software | |
Multivendor Features

| | |
| --- | --- |
| All general features | |
| All e-commerce features | |
| Support system for Multi-vendor (marketplace) store | |
| Vendors who see only their store tickets | |
| Main administrator as marketplace owner who see all vendor's tickets | |
| Easy re-assign ticket to any supplier | |
| Automatic ticket assigning to appropriate vendor through order or contact form | |
| See ready-made addons for multivendor shopping cart software | |